HAPPY FRIDAY!!!

This blog goes out to all of my friends abroad or in different cities throughout the cuntry *wink*!

In the last week Dina, Karen and a few others have emailed me complaining that I have not contacted them - I know I've been very bad at keeping in touch! Dina, now located in Argentina, said that I've been replaced by a gay that lives in Argentina but is originally from Britain - I bet he is hot!

So my life hasn't been too crazy, primarily working on my new job at Collin O'Neal studios and part-time at the restaurant. I converted my garage into a small work station outfitted with a desk, a laptop computer and a printer. I plan to have a guy come out and install a jack in the garage so I can have a landline phone out here and hook up my printer which doubles as a fax machine... too much fun I know! I am also contemplating putting up some PG-13 posters as decoration but I want to be sensitive to my dads eyes since he does come into the garage to get some of his stuff out whenever he stops by the old house!


This weekend was originally planned to be a relaxing weekend that I wanted to use to reconnect with local friends that I haven't seen in a month or so - somehow things got all fu*ked up and this weekend won't be used for that. Instead I am going to be working all weekend long so I can have enough money to buy George Michael tickets on Monday. It's funny, I have told numerous people about Mr. Michael's return to the U.S. and most people yawn at the idea. I've been a fan of his for so long and yet I've never seen him in concert before. In fact he is one of the people that I want to see in concert before I die.
I'm sure all music afficionados have their own list. Mine is:

1. Depeche Mode: Reunited with Alan Wilder's ass back in the band!
2. The Smiths
3. Elton John
4. Cher
5. George Michael
6. Dolly Parton

I'm sure I have more but I can't think right now, stay tuned, maybe I will add more -I know you are dying to know who I want to see, LOL!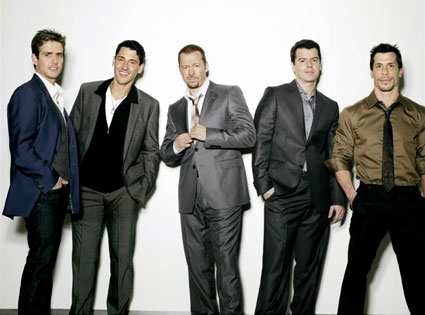 Speaking of concerts, on the Today show this morning New Kids on the Block made their triumphant return to TV showing off their pretty faces to America. Okay, how good did they look? Growing up I can remember hanging out with Cindy and Julie in middle school (Annunciation Catholic School) obsessing over NKOTB, Paula Abdul, Depeche Mode and Arsenio Hall. Well we didn't obsess over Arsenio but we used to pretend we were on the show and Julie would be the audience... random thoughts! I remember our folders were filled with NKOTB pictures. Thinking back it's pretty amazing that i wasn't teased about liking the band. Going to a Catholic school for 8 years was a sheltered experience in a way. I essentially grew up with the same kids for 8 years and we all were stuck in one classroom for the entire day. No one called anyone else: gay, faggot or any other destructive names. Oh, wait, Pearla came to the school in 6th grade and we were pretty mean to her... again side note! Anyway, NKOTB is so exciting to me, seeing them on the TODAY show was pretty special too. I hope their new album is good, but let's face it, the odds are against them. The only thing left to figure out is if anyone will go to the concert with me!


I think Danny Wood is sooo freakin' hot as an adult... yummy!!!

Okay time to sign off... wow, what a random blog posting... sorry!!!